Auto accidents can be devastating to more than just your car.
Even a minor collision can have a major impact on your body. At Albany Chiropractic and Physical Therapy, our experienced chiropractors and physical therapists are uniquely qualified to evaluate your injuries and provide relief from pain caused by a motor vehicle accident.
At our office, we have both chiropractors and physical therapists on hand to provide neck or back pain treatment to help you recover from your car accident. Whether you've been experiencing stiffness, whiplash-type symptoms, lower back pain, or even headaches, we can help you find auto accident pain relief.
Our Services
During your initial visit, we will perform a comprehensive examination to determine the root cause of your pain. This examination will also enable us to determine what type of treatment would be best for you.
Our next step is to create an individualized neck or back pain treatment plan, which we will change as needed throughout your recovery. This way, we can ensure that your body continues to receive the treatment it needs at the appropriate time, and that you are receiving the best care we have to offer.
Through regular visits and completion of at-home exercises, the pain stemming from your auto accident will start to decrease, and you will be able to enjoy life more fully.
Benefits of Chiropractic Care After a Car Accident Injury
Whether your car accident injury is major or minor, seeing a physical therapist post-accident is usually recommended. Read on to discover the benefits of chiropractic care post-accident.
Restore or Improve Mobility/ Range of Movement: If you have experienced a car accident injury, your neck and/ or back may be experiencing a reduced range of motion. A physical therapist provides chiropractic care through adjustments and therapy that can restore range of motion and return joints to proper alignment.
Minimize Pain: Chiropractic care after a car accident injury can potentially minimize pain you are experiencing from the injury. During spinal manipulations conducted by a chiropractor, your body naturally releases pain-relieving hormones.
Reduce Inflammation: Inflammation of the affected area of the body is a common result of a car accident injury. Some amounts of inflammation are normal because it shows that your body is trying to heal itself. Too much inflammation can be harmful to your tissues and can cause discomfort. Receiving chiropractic care services by manipulating & realigning your spine can reduce inflammatory cytokine production.
Reduce Scar Tissue: After a car accident injury, it is common for scar tissue to develop. Scar tissue develops when your body attempts to heal the muscles or tendons that are injured. Unfortunately, scar tissue can cause long-term pain and stiffness. A physical therapist can manipulate the scar tissue so that it heals faster.
Benefits of Physical Therapy After a Car Accident
Getting into a car accident can be very stressful. Being injured in the accident adds a lot more stress to the mix. From whiplash and bruises to broken bones and other injuries, a lot can happen due to a car accident. While there may be a lot to take care of after your accident including insurance claims, auto repairs, and more, one of the most important things you can do is take the time to heal and rest so you can get back to your life.
Our physical therapists can provide you with the tools and exercises you need to heal your body and promote muscle repair. Between massages, acupuncture, and other body manipulations, our team can help focus on areas of your body that you want to become stronger. Physical therapy will help heal joints, ligaments, and muscles. Depending on your pain level, these sessions can be a short or long-term process.
Physical therapy can help with faster healing as our team can help create a plan that is tailored to you and your injury. We focus on the quickest route to recovery with activities that will increase your range of motion. Pain from your accident can last for weeks or months. If it was a severe injury, pain could last through the years. We can help ease the pain and avoid medication.
Contact Our Certified Team if You've Sustained a Car Accident Injury
It may prove difficult to pick up the pieces after being involved in an automotive accident. Thankfully, the certified team at Albany Chiropractic & Physical Therapy is constantly standing by to assist individuals throughout the Albany and Schenectady, NY communities. If you've sustained a serious car accident injury, our experienced chiropractors and therapists will help to set you on the path toward recovery. We offer the very latest in physical therapy programs and chiropractic treatments to eliminate pain and restore your range of motion.
If you're interested in scheduling an upcoming appointment, don't waste another moment. Simply contact one of our knowledgeable representatives today. We've made it easier than ever to book a consultation at our convenient facility. Albany Chiropractic & Physical Therapy is sure to offer the right treatment to suit your current condition.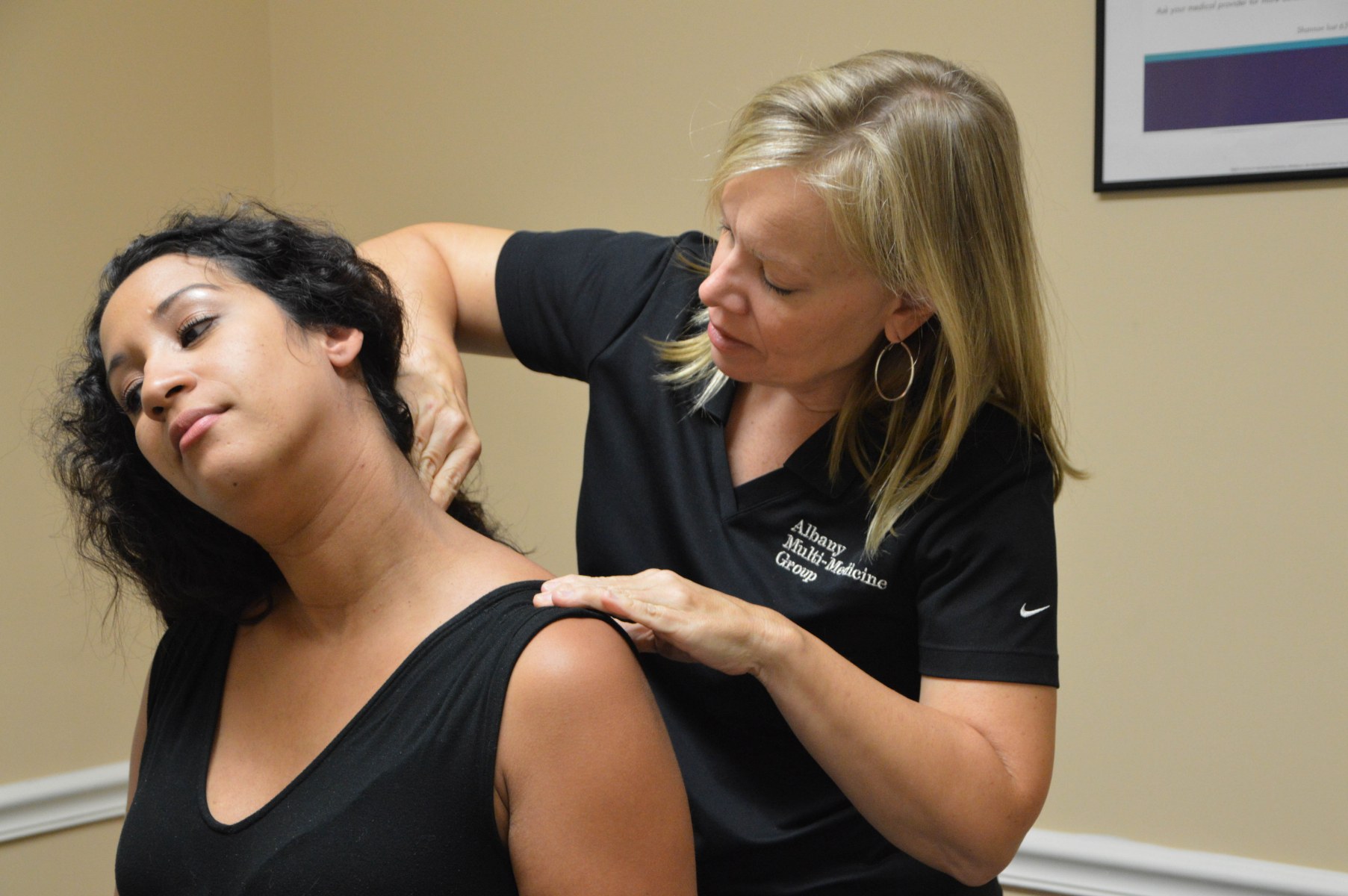 If you are looking for auto accident pain relief in Colonie, NY and surrounding areas, call ACPT at (518) 869-3884 or contact us to schedule your first appointment.